Dr. Matt Pryor – Pastor
Brother Matt came to Manila FBC in August of 2014. He is a native of Searcy, Arkansas where he graduated in 1992. Matt holds a B.S.E. from Ouachita Baptist University, a MDiv from Southwestern Baptist Theological Seminary, and a DMin in Church Health from New Orleans Baptist Theological Seminary. Matt is married to his college sweetheart, Amy. They have two wonderful daughters.
Favorite Verse:
"Therefore if anyone is in Christ, he is a new creature; the old things passed away; behold, new things have come." 2 Corinthians 5:17 (NASB)



Larry Chastain – Youth and Music Minister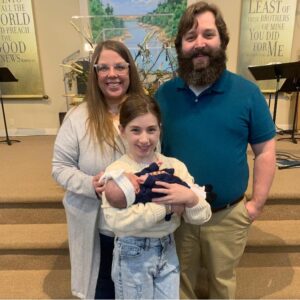 Bro. Larry Chastain is originally from Magnolia, AR, where he gave his life to Jesus and was baptized when he was 11; surrendered to ministry and graduated high school in 2004; married his high school sweetheart, Ashley, in 2007; and have two daughters Raylee and Lottie. He holds a Bachelor's Degree in Music from Ouachita Baptist University and a Master's Degree of Music from Northwestern State University. Bro. Larry joined FBC in May of 2018, and is excited to continue to grow and minister here in Manila!
Favorite verse:
"Sing joyfully to the Lord, you righteous; it is fitting for the upright to praise him. Praise the Lord with the harp; make music to him on the ten-stringed lyre. Sing to him a new song; play skillfully, and shout for joy. For the word of the Lord is right and true; he is faithful in all he does. The Lord loves righteousness and justice; the earth is full of his unfailing love." – Psalm 33:1-5
Chris Miller – Children's Pastor & Mission Pastor
Chris joined the Manila FBC staff in March of 2015. He was born and raised in Beebe, AR where he graduated in 1998. Chris holds a B.S. in Business Administration from Williams Baptist College and a Masters of Missiology and Intercultural Studies from Mid-America Baptist Theological Seminary. Chris is married to Adrienne, also from Beebe, who is the love of his life. Chris and
Adrienne have two daughters: Katherine, who was born in December 2015, a
nd Matylyn, who was born in May of 2018.
Favorite Verse:
"Christ has liberated us to be free. Stand firm then and don't
submit again to a yoke of slavery." -Galatians 5:1