Meet Our Pastors and Staff

Dr. Matt Pryor – Pastor
Brother Matt came to Manila FBC in August of 2014. He is a native of Searcy, Arkansas where he graduated in 1992. Matt holds a B.S.E. from Ouachita Baptist University, a MDiv from Southwestern Baptist Theological Seminary, and a DMin in Church Health from New Orleans Baptist Theological Seminary. Matt is married to his college sweetheart, Amy. They have two wonderful daughters.
Favorite Verse:
"Therefore if anyone is in Christ, he is a new creature; the old things passed away; behold, new things have come." 2 Corinthians 5:17 (NASB)

Larry Chastain – Youth and Music Minister
Bro. Larry Chastain is originally from Magnolia, AR, where he gave his life to Jesus and was baptized when he was 11; surrendered to ministry and graduated high school in 2004; married his high school sweetheart, Ashley, in 2007; and had a daughter, Raylee, in 2011. He holds a Bachelor's Degree in Music from Ouachita Baptist University and a Master's Degree of Music from Northwestern State University. Bro. Larry joined FBC in May of 2018, and is excited to continue to grow and minister here in Manila!
Favorite verse:
"Sing joyfully to the Lord, you righteous; it is fitting for the upright to praise him. Praise the Lord with the harp; make music to him on the ten-stringed lyre. Sing to him a new song; play skillfully, and shout for joy. For the word of the Lord is right and true; he is faithful in all he does. The Lord loves righteousness and justice; the earth is full of his unfailing love." – Psalm 33:1-5
Chris Miller- Children's Pastor & Mission Pastor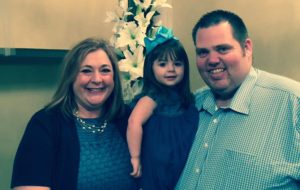 Chris joined the Manila FBC staff in March of 2015. He was born

and raised in Beebe, AR where he graduated in 1998. Chris holds

a B.S. in Business Administration from Williams Baptist College

and a Masters of Missiology and Intercultural Studies from

Mid-America Baptist Theological Seminary. Chris is married to

Adrienne, also from Beebe, who is the love of his life. Chris and
Adrienne have one child, Katherine, who was born in December
2015.
Favorite Verse:
"Christ has liberated us to be free. Stand firm then and don't
submit again to a yoke of slavery. Galatians 5:1
Natalie Williams – Ministry Assistant
I realized my need for a savior in June of 1996. I knew, after I encountered the Lord that day, that my life would never be the same. He is my comfort and my peace, my calm in this crazy world. I am beyond humbled that He would choose me to be one of His children!
I married the love of my life, Thomas, in June of 2002. I was not where I needed to be, spiritually, at that time. Thomas and I had spoken of raising our children in church, so I assumed he was a Christian. I found out in the fall of 2011 that, not only was he not a Christian, but he was in doubt as to whether there was a God at all. We dove into apologetics at this time. The "why" we believe what we believe; the science of creation.
In just a month, he became convinced that God had to be real, and by attending church and reading the Word, he was also convinced of his need for a savior. He then led our daughters, Alexis and Brianna, to the Lord, and they were all baptized together. To watch this transition was nothing short of a miracle! It was one of the best days of my life. Then our son, Brent, was saved and baptized in 2013.
I am honored that God chose me to be the Ministry Assistant at Manila First Baptist Church! My prayer is that He will be glorified in all that I do.
Favorite verse:
"For I am convinced that neither death nor life, neither angels nor demons, neither the
present nor the future, nor any powers, neither height nor depth, nor anything else in all
creation, will be able to separate us from the love of God that is in Christ Jesus our Lord."
Romans 8:38-39