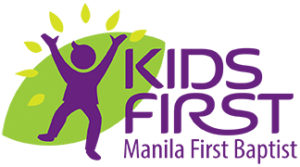 Our Children's Ministry is designed to partner with you in the spiritual growth of your child. Through Explorers, Children's Church, Children's Choir, Missions, Bible Drills, and Sunday School, we want your child to experience God by learning His Word and how it applies to their lives. We want children to realize that Jesus Christ is the most important relationship we will ever have and that His love for us is everlasting!
UPCOMING EVENTS
Vacation Bible School
Wednesday, June 14th – 6:00 p.m. – 8:00 p.m. – VBS Kickoff – Manila Water Park
*Children must be accompanied by an adult at the water park!
Sunday, June 18th – 4:30 p.m. – 7:30 p.m.
Monday, June 19th – Wednesday, June 21st – 9:00 a.m. – 12:00 p.m. daily
Wednesday, June 21st – 6:00 p.m. – Parent Night
3 years old thru completed 6th grade
Register online at firstbaptistmanila.org
Camp Siloam
June 5-9
Siloam Springs, Arkansas
Remainder of Registration fee due by May 28th!
For children who have completed 3rd thru 8th grade
$110 per child, due by June 17th.
See Chris Miller for more information, or for a registration card!